New Year, New Degree, New Job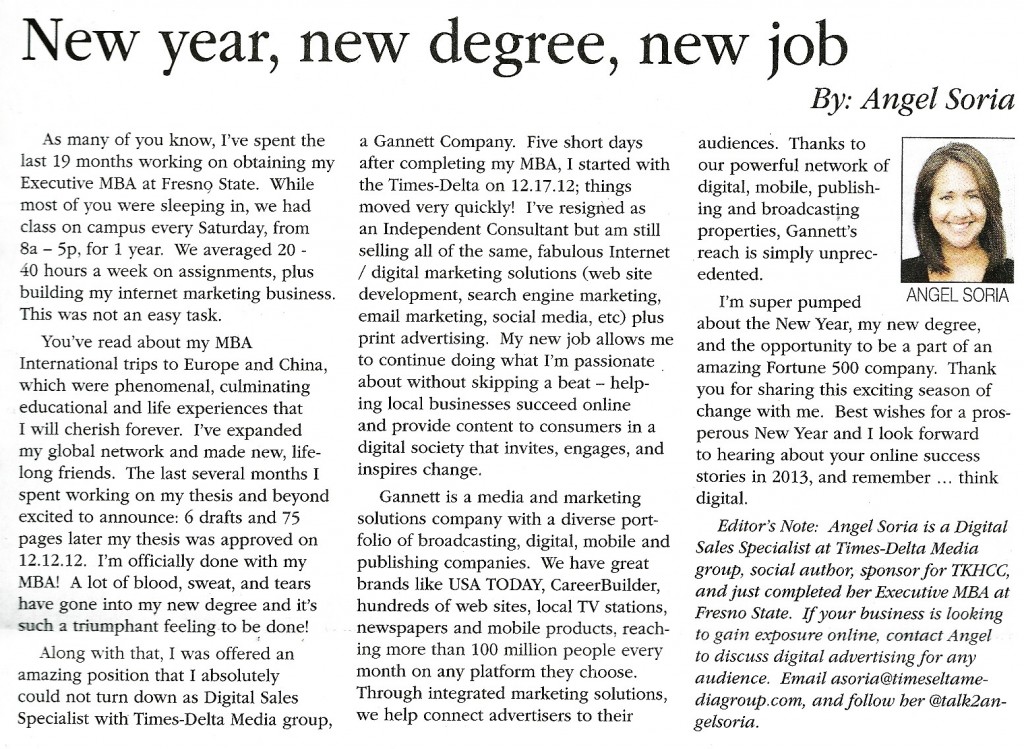 As many of you know, I've spent the last 19 months working on obtaining my Executive MBA at Fresno State.  While most of you were sleeping in, we had class on campus every Saturday, from 8a – 5p, for 1 year.  We averaged 20 – 40 hours a week on assignments, plus building my internet marketing business.  This was not an easy task.
You've read about my MBA International trips to Europe and China, which were phenomenal, culminating educational and life experiences that I will cherish forever.  I've expanded my global network and made new, life-long friends.  The last several months I spent working on my thesis and beyond excited to announce: 6 drafts and 75 pages later my thesis was approved on 12.12.12.  I'm officially done with my MBA!  A lot of blood, sweat, and tears have gone into my new degree and it's such a triumphant feeling to be done!
Along with that, I was offered an amazing position that I absolutely could not turn down as Digital Sales Specialist with Times-Delta Media group, a Gannett Company.  5 short days after completing my MBA, I started with Times-Delta on 12.17.12; things moved very quickly!  I've resigned as an Independent Consultant but am still selling all of the same, fabulous Internet / digital marketing solutions (website development, search engine marketing, email marketing, social media, etc) plus print advertising.  My new job allows me to continue doing what I'm passionate about without skipping a beat – helping local businesses succeed online and provide content to consumers in a digital society that invites, engages, and inspires change.
Gannett is a media and marketing solutions company with a diverse portfolio of broadcasting, digital, mobile and publishing companies.  We have great brands like USA TODAY, CareerBuilder, hundreds of web sites, local TV stations, newspapers and mobile products, reaching more than 100 million people every month on any platform they choose.  Through integrated marketing solutions, we help connect advertisers to their audiences.  Thanks to our powerful network of digital, mobile, publishing and broadcasting properties, Gannett's reach is simply unprecedented.
I'm super pumped about the New Year, my new degree, and the opportunity to be a part of an amazing Fortune 500 company.  Thank you for sharing this exciting season of change with me.  Best wishes for a prosperous New Year and I look forward to hearing about your online success stories in 2013, and remember … think digital.
Editor's Note:  Angel Soria is a Digital Sales Specialist at Times-Delta Media Group, social author, sponsor for Tulare Kings Hispanic Chamber of Commerce, member and ambassador of Visalia Chamber of Commerce, and just completed her Executive MBA at Fresno State.  If your business is looking to gain exposure online, contact Angel to discuss digital advertising for any audience.  Email [email protected], and follow her @talk2angelsoria.